We invite you to participate in the 10th Conference + Expo Pharmacy & Medical Management & Communication on February 2nd and 3rd 2019 in MEGARON ATHENS INTERNATIONAL CONFERENCE CENTRE.

This is the event that Greece's most dynamic and successful health professionals attend year after year to learn compelling solutions and new executable ideas that will set the stage for continuous growth.
The event is also attended by more than 1.000 health sector buyers and executives in order to meet with business affiliates and seek new business opportunities.
It is not just the greatest national scientific, educational and commercial event.
It is a broader social event that brings together Health professionals and makes a real contribution to the upgrading of Greece's Health sector.
It addresses pharmacists, physicians and their associates that actively seek to boost their business and build loyalty with their patients-customers.
For two days, it will offer fresh ideas and solutions for the development and evolution of more than 100 and 6.900 expected exhibitors and visitors respectively.
International exhibitors will have the opportunity to meet with potential buyers and explore new business opportunities in Greece's growing health sector.
Conference Attendance YoY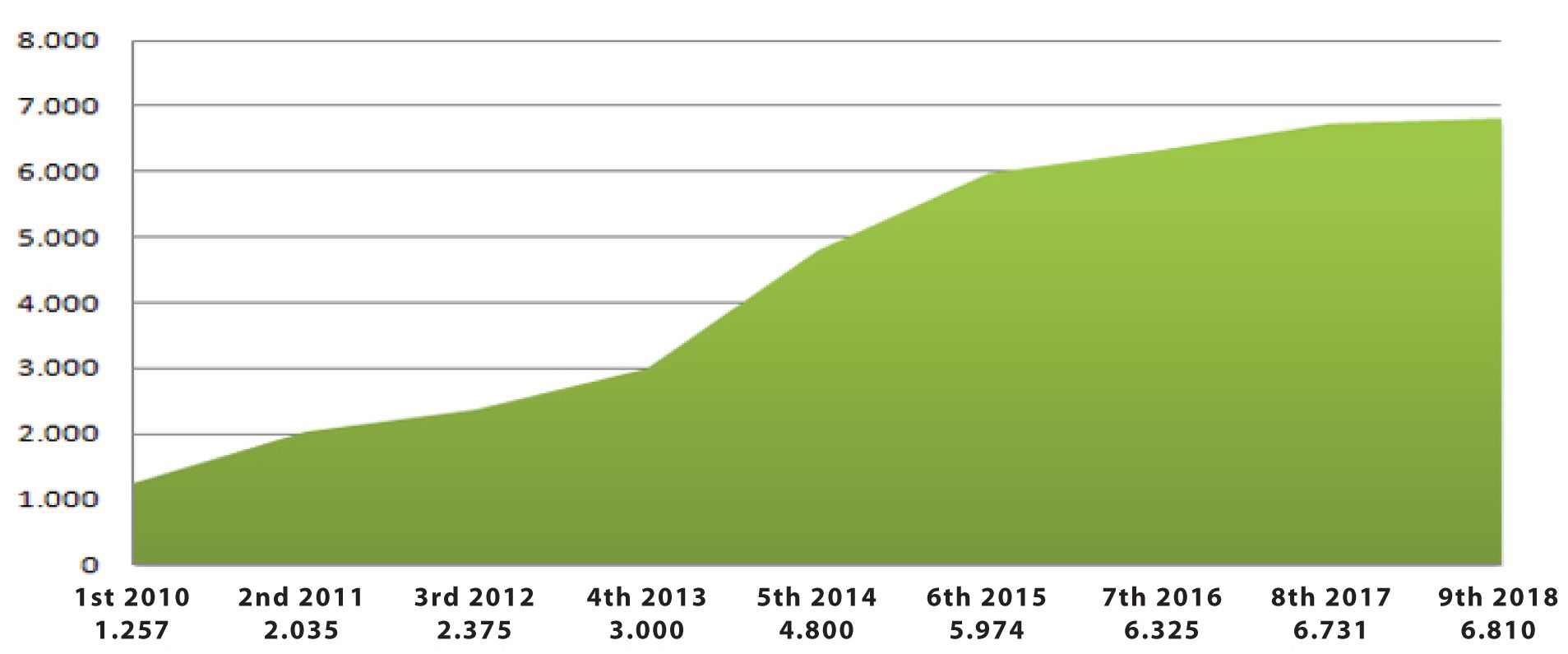 Does this sound appealing to you?
If so, we invite you to join us.
You will have the opportunity to meet health professionals who are ready to grow their business and play an active role in evolving the health industry.
It's for those who have tried it all before, are actively seeking new ideas and are hungry for change.
The expo will provide you with the opportunity to present new products, solutions and services for the health professional.
If you prefer meetings with focus groups or even on a one-on-one basis, fully equipped workshop rooms are ready to host you business meetings or presentation sessions.
You will also have the opportunity to make new business acquaintances and educate yourselves through a series of original events, demonstrations, lectures, seminars and workshops.
See the Video of the Conference
The 10th Conference + Expo – Pharmacy & Medical Management Communication will be held at the world class and state-of-the-art MEGARON ATHENS INTERNATIONAL CONFERENCE CENTRE, located in the center of Athens and easily accessible via car or public transportation – bus and metro (station: Megaro Moussikis). There are numerous options nearby for hotel accommodations, restaurants and tourist attractions to visit.
See the Location in Google Maps
9th CONFERENCE EXHIBITOR PACKAGE

For More Information Please Contact:
Antonis Sakaloglou
Senior Consultant, Business Development
T. +30 210 984 3274 – M. +30 694 453 1863
a.sakaloglou@pharmamanage.gr